APH-101 4,000 lb. SIDE DRIVE CRADLE KIT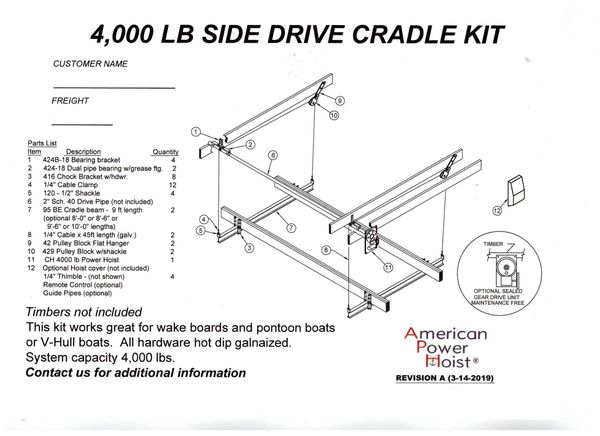 APH-101 4,000 lb. SIDE DRIVE CRADLE KIT
*All returns subject to 20% restock fee and original shipping cost covered by American Power Hoist will be deducted from the refund amount.
The White Shark Gear Drive is greased for life meaning there is no additional greasing needed. This lift runs 30% faster than a traditional model lift.
**If you are unsure what beam length or cable length you need, please contact us at 740-964-2035 or 1-866-876-0092. We can also be easily reached through our Contact Us page that can be found at the very top or very bottom of this page.
Kit Includes:
Item:                      Description:                                            Quantity of Parts:
1                         424B-18 Bearing Bracket                                                                4
2                         424-18 Dual Pipe Bearing w/ Grease Fitting                                  2
3                         416 Chock Bracket w/ Hardware                                                     8 
4                         1/4" Cable Clamp                                                                             12  
5                         120-1/2" Shackle                                                                               4
6                          2" Schedule 40 Drive Pipe                                                     Not Included
7                          95BE Cradle Beam (Select Feet)                                                     2  
8                          1/4" Galvanized Cable (Stainless Option)                                      2
9                          42 Pulley Block Flat Hanger                                                            2
10                        429 Pulley Block w/ Hanger                                                             2
11                        4,000 Lb. Power Hoist                                                                       1
12                        Hoist Cover (Optional)                                                            Not Included
13                        Remote Control (Optional)                                                      Not Included
14                        Thimble (included; not shown)                                                       4
15                        Guide Pipes (Set of 4)  (Optional)                                            Not Included
     *Timbers not Included 
Reviews