APH-600A 6,000 lb. Overhead Steel Compound Cradle Kit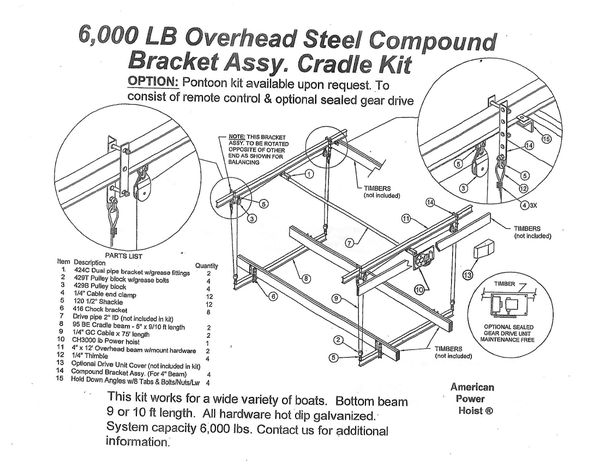 APH-600A 6,000 lb. Overhead Steel Compound Cradle Kit
*Please call before ordering: 740-964-2035 or 1-866-876-0092. We can also be easily reached on our Contact Us page in which can be found at the very top or very bottom of this page.
*All returns subject to 20% restock fee and original shipping cost covered by American Power Hoist will be deducted from the refund amount.

All parts hot dipped galvanized.
* This kit includes two bottom beams and two top beams, the top beams will be 12 feet in length. The bottom beam length are requested above; should you have any questions please contact us by phone or email.
 Kit Includes:
Item #                                       Parts List                                                                Quantity
1                         424C Dual pipe bracket w/ grease fitting                                    2
2                        429T Pulley block w/ grease bolts                                                4
3                        429B Pulley Block                                                                            4
4                        1/4" Cable end clamps                                                                  12
5                        A120 1/2" Shackles                                                                        12
6                        416 Chock Brackets                                                                        8
7                        2" Drive pipe                            Not Included (Optional add on)
8                        95BE Cradle Beam (9,9 1/2, or 10)                                                2
9                        4"X12' Overhead Beam                                                                   2
10                      1/4" GC Cable 75' length                                                                2   
11                      CH3000 lb. Power Hoist                                                                  1  
12                      1/4" Thimble                                                                                     4
13                      Optional Hoist Cover             Not Included  (Optional add on)
14                       Compound Bracket assembly (for 4" beam)                               4
15                      Hold down angles w/ 8 tabs                                                            4
                        (includes bolts, nuts & washers)                    
Reviews