APH-016 - 4,000 lb Wood Cradle Kit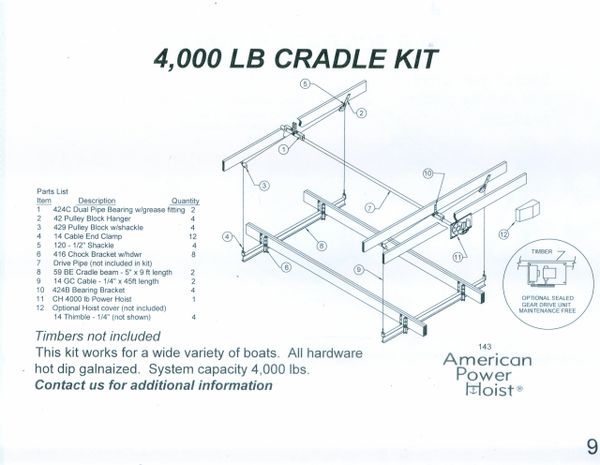 APH-016 - 4,000 lb Wood Cradle Kit
*All returns subject to 20% restock fee and original shipping cost covered by American Power Hoist will be deducted from the refund amount.

***Cable length is dependent upon the boat house height from bottom floor of water to the ceiling of the boat house. If you have any questions regarding the length of cable and how to accurately get this information, please call 1-866-876-0092 or 740-964-2035.

Kit Includes:
Parts List        All Hardware Hot Dip Galvanized
Item                  Description                                                 Qty.     
#1    424C          Dual Pipe Bearing w/Grease Fittings         2        
#2    42               Pulley Block Hanger                                    4
#3    429             Pulley Block w/Shackle                               4
#4    14               Cable End Clamps                                      12
#5    120             1/2" Shackle                                                  4
#6    416             Chock Bracket w/Hardware                         8
#7    Drive Pipe  (Not Included)
#8    59               BE Cradle Beam - 5" x 9' in length             2
#9    14               GC Cable - 1/4" X 45 Ft Length                   2
#10  424B          Bearing Bracket                                            4
#11  CH4000lb  Power Hoist                                                   1
#12  Optional Hoist Cover (Not Included)                             1
        14              Thimble - 1/4" (Not Shown)                          4
                          Timbers Not Included
Reviews